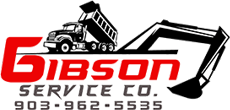 Want to make your landscape more attractive? Need structural support for your soil? Worried about flooding in your yard?
Retaining wall contractors
Installing a retaining wall can truly transform your yard into a stunning landscape and give you peace of mind about your property.
Gibson Service Co. is a team of expert retaining wall contractors in Van Zandt County and East Texas. Our crew has the knowledge and experience to construct any retaining wall, no matter the size or scope of the project.
We build retaining walls using a wide range of materials, including concrete blocks, stone, keyed blocks, and more. Call Gibson Service Co. today to speak with a representative.