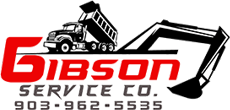 Get a quote for sand & gravel, concrete work, or excavation in Canton & Edgewood, TX
Gibson Service Co. has been serving Van Zandt County and East Texas for decades. Our customers trust us because we've been here for more than 20 years, and we're not going anywhere.
It's easy to work with us. Just give us a call, get an honest quote, and schedule service. That's it.
If you're planning a project and need a full-service construction company, give Gibson a call. Our contractors in the Canton & Edgewood area are ready to help.