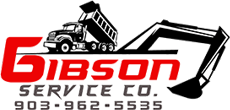 Has your parking lot taken a beating over the years? Is your street cracked, filled with potholes, and hazardous?
Gibson Service Company can solve all these problems.
We offer residential and commercial asphalt services for roads, streets, and parking lots. If it's time to have your lot re-striped, we can help you design a layout that will not only look good but also make your property more efficient.
If you want to add new life to your asphalt surfaces, you've come to the right place.
Gibson Service Company is a professional paving company in Van Zandt County. We offer a full array of commercial and industrial asphalt services.