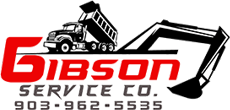 Locally owned. Locally trusted.
Gibson Service Company is a local construction company located in Grand Saline, TX. As fellow East Texans, we've been serving homeowners and businesses in our region for more than 22 years.
Our customers trust us not only because of our years of experience or the fact that we offer a variety of services. They trust us because we're easy to work with. We pride ourselves on making things easy. When you call us, you're hitting the easy button.
Our services are fast and affordable, but are not "cheap" in quality. When you work with us, you are guaranteed the highest quality service from some of the most experienced professionals in East Texas.