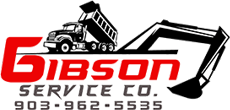 Get a quote for sand & gravel, concrete work, or excavation in Mineola & Van, TX
At Gibson Service Co. we are proud generalists. From sand and gravel delivery to retaining wall construction; from excavation to asphalt paving; and everything in between, there isn't much we can't do.
We work with a wide range of specialists who handle a vast variety of construction projects. Our goal is to be your one stop shop for all your construction needs in Mineola and Van, TX.
Customers love us because we're highly experienced, and easy to work with. If you need a job done on time, within budget, and with absolute professionalism, Gibson Service Co. is the number to call.