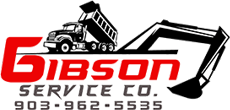 Gibson Service Co.
Gibson Service Co. provides professional dirt work and excavation services for commercial and residential properties.
Site development is becoming more complicated as government regulations and design requirements dictate what can and cannot be done. You need a skilled excavating company with experience and knowledge to develop your property.
GSC has all the necessary equipment to develop your property.