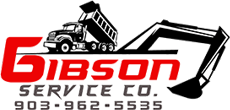 Welcome to Gibson Service Company located in Grand Saline, Texas. GSC is a professional construction company bringing our customers' visions to life through knowledge, experience, and craftsmanship.

Gibson Service Co. is a full-service construction company, meaning we can tackle any project you've got. Our experienced technicians will work with you to find the solution to your problem.

Gibson Service Co. offers a wide variety of services to our clients, and we pride ourselves on being a one stop shop for all your construction needs. We think outside the box on custom projects so that no two are the same and add originality to our clients' wants and needs.