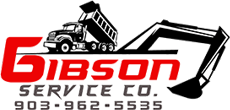 Gibson Service Company
If you are looking to redo or install a driveway no matter the size, Gibson Service Company can help. We handle residential and commercial parking lots and driveways of every size and scope.
From large to small projects, GSC has experience with every type of driveway project. We can make your driveway look immaculate while staying within your budget.
At Gibson Service Company, we hold the highest standard in craftsmanship, quality, and overall experience. Our materials are of the highest quality to ensure the best possible driveway for our customers.