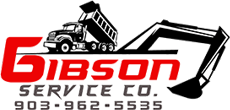 Need sand and gravel in Van Zandt County or East Texas?
If you need sand, gravel, topsoil, or any type of aggregate for your next project, you'll find everything you need at Gibson Service Co.
Our wide range of granular materials has many applications.
Do you need gravel for a driveway, pathway, or road? Do you need sand for cement, construction, or even a playground? Are you looking for topsoil to plant a flower bed or grass for a new property?
Visit our Grand Saline location to peruse our inventory during regular business hours Monday through Friday or call for an estimate and place an order for delivery over the phone. We have our own sand pits too.