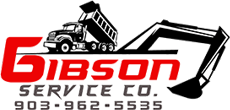 Land clearing
Land clearing is a broad term that covers many different types of jobs and methods. Like your vision, each project is unique, requiring the correct configuration of equipment types and sizes.
Gibson Service Co. is a land clearing contractor with the crew, experience, and equipment to bring your vision to life. With the right equipment and a highly experienced team, we will maximize efficiency and minimize cost for your project.
Gibson Service Co. reinvests into our business to ensure the right equipment is always on hand so your job runs smoothly and is executed with excellence. Our team will listen to your vision and make a plan to meet or exceed your goals.